Market Sell-Off Part 2: Zoom Earnings and 10 Year Treasury
Market Sell-Off Part 2:  Zoom Earnings and 10 Year Treasury
Friday, March (3/5) Closing Price
TABLE OF CONTENTS


DISCORD RECAP (March 1st – March 5th)
We like energy and oil.
After OPEC's surprise to cut oil production through April,  we anticipate oil prices will continue to climb.
Crude oil has been a top-performing asset this year, with variants like gasoline and diesel also delivering significant gains in 2021 of 38.6% and 24.3%, respectively.
To participate in this, we will be investing in Exxon Mobil, $XOM.
On Friday, XOM closed at $60.93 and we see a potential to hit $85.
If you trade this stock, we have a short-term target price of $63.17.
Day trading short-term call options could also be a good idea.

Fundamental Analysis Matters???
Investors have decided that fundamental analysis is essential this week, reflecting in Zoom's stock price dropping $100 or 30% in two days.
Zoom released its earnings on Monday, and they blew expectations out of the water. The video-calling software maker reported its revenue grew 369% YoY in the quarter that ended on January 31st, after growing 367% in the
third quarter and losing fewer customers than executives had expected.
Revenues soared to $883 million, up from $188 million the year before.
Based on formal accounting rules, Zoom's net income rose from $15 million to $260 million, or 87 cents a share.
The gross margin expanded from the previous quarter's 66.7% to 69.7%.
small customers grew to 467,100 customers with more than 10 employees at the end of the fiscal fourth quarter, nearly five times as many as it had before the pandemic hit, or up 470% on an annualized basis, compared with 354% growth in the previous quarter.
It ended the quarter with $4.24 billion in cash, cash equivalents, and marketable securities, significantly up from the previous quarter's $1.87 billion.
Consensus estimates for their Earnings per Share (EPS) was $0.79, and actual was $1.22 for Q4.
Zoom's revenue topped $822B, almost 9% better than estimates, and provided 2022 earnings guidance of $3.62 per share.
Despite these robust estimates, investors do not agree that the stock should be trading at 110x its 2022 Earnings estimates as well investors are wary of whether or not Zoom can continue this momentum.
Just two weeks ago, researchers from Stanford University argued about possible "Zoom fatigue."
The study found that all the countless hours spent on zoom calls take more of a tool on the human brain and body than regular office work.
The fact that we are always connected, and sharing is leaving us mentally fatigued. The address four key reasons.
Excessive amounts of close-up eye contact are highly intense.

Seeing yourself during video chats constantly in real-time is fatiguing.

Video chats dramatically reduce our usual mobility.

The cognitive load is much higher in video chats.
We wouldn't be surprised if we started to see a decline in zoom video usage in the upcoming months with vaccine rollouts, re-openings, and taking a break.
Target Reports Record-breaking Earnings, stock sells off.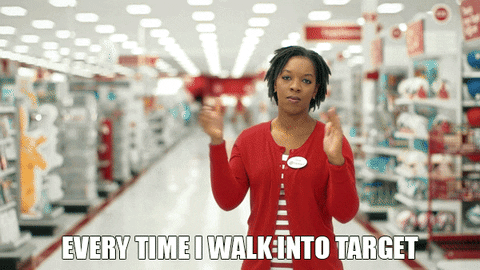 Target's stock closed down 6.8% on Tuesday trading but has soared 64% over the past year.
For the fiscal fourth-quarter ending on January 30th,
revenue rose 21% to $28.34 billion from $23.4 billion last year, higher than analysts' expectations of $27.48 billion.
Comparable sales, a critical metric that tracks sales at stores open at least 13 months and online, went up 20.5% compared to the prior year as comparable digital sales rose by 118% YoY.
After strong holiday sales, online sales gained even more momentum as Americans cashed in their $600 stimulus checks in January.
Store sales increased by 6.9%, digital sales increased 118%, and same-day service grew 212%.
As impressive as they are, both metrics show a deceleration in growth rates versus the third quarter.
In mid-January, Target reported that sales grew 17% during the holidays, which is a slight slowdown from the third quarter's 21% spike, but it is still a lot better than the 9% that Walmart experienced.
So why did the stock sell-off?
Target did not provide guidance within their earnings report, and this has spooked investors.
Target also reported on-GAAP EPS of $2.67, beating estimates by $.13, and revenue of $28.34B beating estimates by $920M.
The only real forward direction that Target provided is that they will spend $ 4B annually for the next several years.
A big step up from 2020 where they spend $2.7B and in 2019, they spent $3B.
Target is planning to increase the number of stores by 30-40 stores annually.
Target plans to remodel 150 stores this year and increase that number to 200 in the following year.
Investors did not take to this news lightly, and the stock price reflected it.
Their earnings were solid outside of the spending guidance, and their omnichannel business presence led to their revenue growth.
In conclusion, investors do not like spending more money.
Somethings AREN'T Best Left Unsaid 
Investors often make decisions based on what was said in meetings, press conferences, and interviews. In this case, markets moved because of things that were left unsaid; investors were left with a sour taste after Federal Reserve Chairman Jerome Powell failed to address the Gigantic Elephant in the room. 10-Year Treasury Yields are rising due to expected economic growth and inflation in the future. Due to the pandemic, borrowing is near an all-time high, and any change in interest rates can have a massive multiplier effect across the country. High Growth companies, small businesses, and millions of individuals will face defaults with higher interest rates. This lack of reassurance from Powell sent markets tumbling despite a positive jobs report showing unemployment rates falling to 6.2%. We will have to keep a close eye on the 10-Year Treasury Yield in the future with it carrying such grave implications.
Tesla Divides Believers and Values Skeptics
The market is split between believers and skeptics.
Those who believe that Tesla's value is limitless and those who are more pessimistic about its prospects, especially given its current market price.
The company's progress so far in "accelerating the world's transition to sustainable energy" is a credit to Tesla. Still, there is a lot more left to do in its master plan to justify today's valuation.
Tesla's history of executing many of its audacious goals seems to be expected to continue, given the optimism in the current stock price. This gives the company very little room for error.
Read more about it on our website: https://www.tigerwolfcapital.com/tesla-divides-believers-and-skeptics/
REVIEW OF PAST WEEK 3/1 – 3/5
UPCOMING WEEK 3/8 – 3/12
EVENTS & TALKS