Interest Rate Decision and Company Earnings
January 26th,  2022
$SPX
After very aggressive moves from the upside to the downside last week and earlier this week, SPX and SPY are both consolidating.  We are currently forming a Doji on the weekly candle. As we go into the second half of the week, be on the lookout to see whether we make a new lower low or begin to bounce back up.
The key level to pay attention to will be $4,282.25 – if SPX losses this level, we can see a new low of $4,251 or even $4,123
$SPX (daily)
We have opened slightly below the daily demand on Monday and have made the huge move down and up on back-to-back days. Last time we were near the $4,282 price level, it was followed by a massive rally back up to $4,380 and 4,735
A reminder that we have an FOMC interest rate decision tomorrow and are still not even halfway through major earnings week.
What is the market expecting from the FOMC meeting:
Federal Reserve monetary policy will reveal whether or not interest rates hikes will start tomorrow or start sometime in March of this year.
The Market is anxious to know how many interest hikes to expect this year. Many are pricing in three 25 or 50-basis point hikes while others are pricing in four hikes.
Read our post about why does this even matter:  Why Does the Market Care About Interest Rates?
Company Earnings
We are expecting Boeing, Intel, Tesla, Mastercard, Apple, McDonald, Visa, to report later this week. It's best to wait for these events to pass and let the dust settle before deciding on the next move.
Remember that it's important to know when not to trade. There is nothing wrong with sitting on your hands until the direction is clear. This will help you not lose money in the stock market.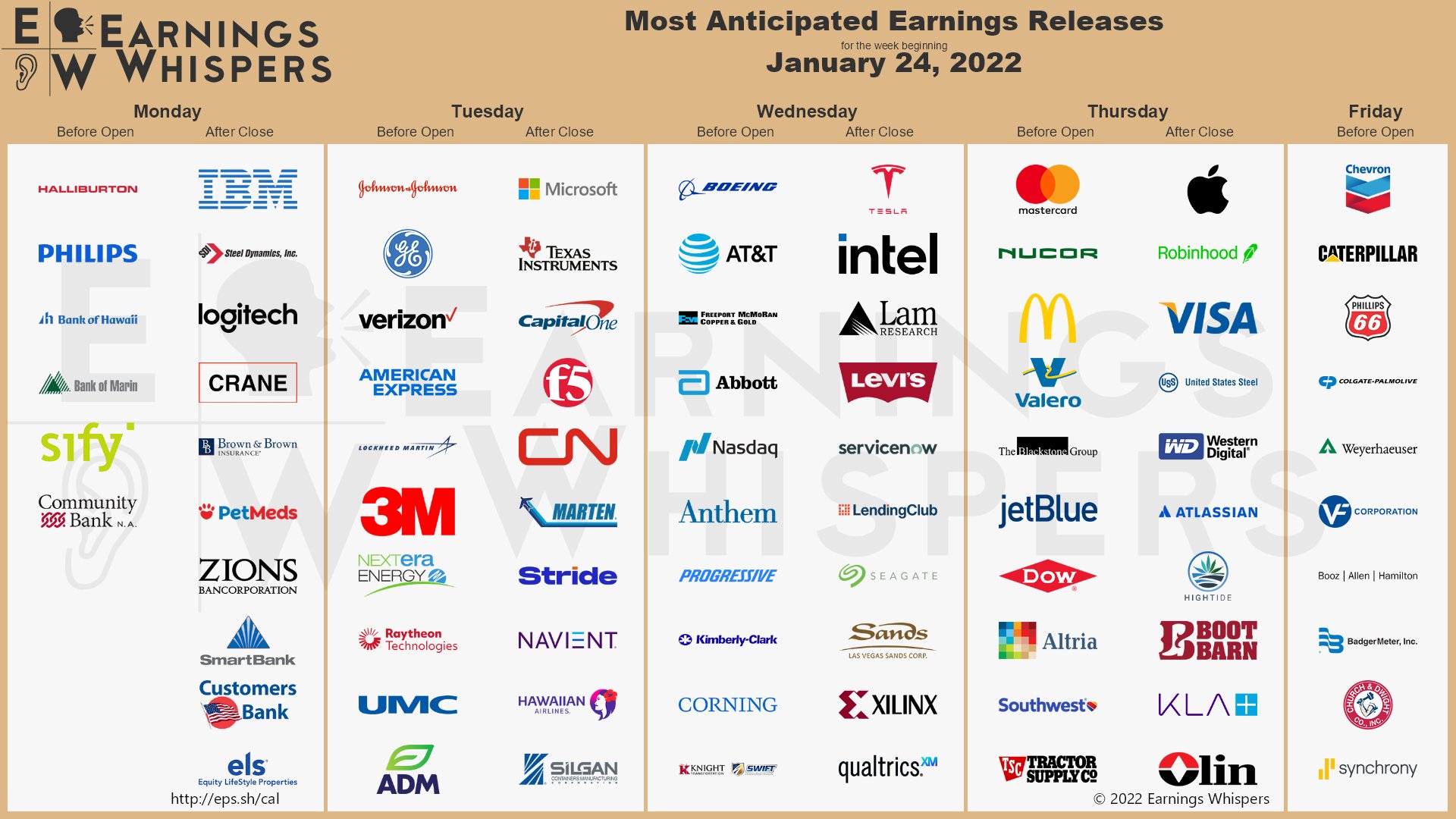 Current triggered swing trades:
$TSLA Tesla
On Monday's Market close, I noticed Tesla's daily candlestick closed as a green hammer (bullish), as well we saw price close above the bottom of the channel's trendline (bullish). With these two things going on, I feel fairly confident that price action should continue to the upside.
I believe Tesla's stock price can push higher into the upper trendline resistance so around $980 / $1,000 price level.
How to trade a Hammer Pattern
This candlestick pattern is formed when the price for that time frame moves significantly lower than what the open price was, but then rallies higher before market close.
If a hammer pattern is present after a downtrend,  we do anticipate for price action to become bullish and start to move higher.
You can read more here if you want
$UPST Upstart
Similar to the setup that Tesla has, we saw a green hammer close on Monday's price action.
Here is the strategy I am using:
Have at least 100 shares.
Sell 1 cover call –

$115 strike for 2/25/ 2022
Collect $722.5 in premium.

We want the stock price to stay above our entry price but below $115 ( we want to keep the shares )
My first price target will be $115
If the stock price falls below $84.14 – we will start to lose money – this is our risk.

$115 strike for 2/25/ 2022
Collect $722.5 in premium.
For now, I do not like anything else.
Be ready for anything.