Dark Cloud Cover Pattern and Why it Matters
What is the Dark Cloud Cover pattern?
For traders, the beginning of the month is an important time for trend analysis.  At the start of the month, you can have a wide view of the trend you believe the market will be following. Today we will be focusing on "Dark Cloud Cover" for the month of March.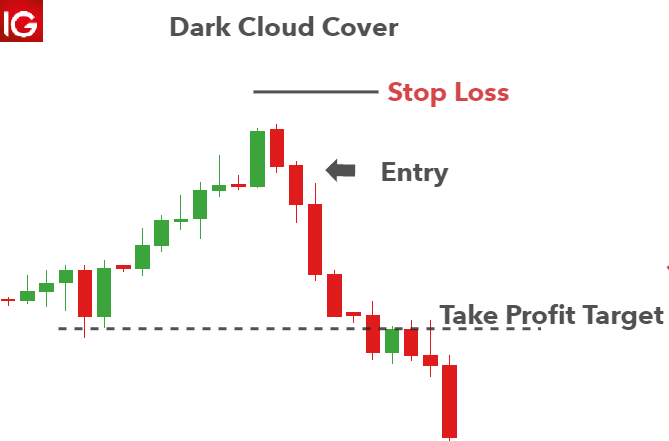 The Dark Cloud Cover pattern is a bearish chart pattern, it signals a reversal from a previous bullish trend. The larger time frame chart that is used often provides a clearer picture of the potential strength of the downside; i.e a daily chart vs a 5-minute chart. 
With the dark cloud cover candlestick, we are looking at analyzing two candles.  Both candlesticks here should have fairly large bodies and the shadows of each are usually small or nonexistent. Although this is not the main point to look for. The red candlestick must open above the previous green candlesticks close and then close below the midpoint of the green candlestick's body to qualify as a signal for a potential reversal. The 2 candle pattern is where the name is derived from, the 2nd day's candle opens green and "sunny" but closes red and the "dark cloud" forms. The rejection of the uptrend would ideally be accompanied by strong selling volume. 
Why do we care?
With a bullish or bearish monthly outlook, as traders, we can set up our daily game plans accordingly. You want to follow the trends that your chart tells you are happening and always look for signs of potential reversals. If our chart shows a potential Dark cloud cover pattern has formed, we will look for further bearish signals in our trend analysis and position ourselves accordingly for the downside. You don't want to buy calls in the short term if the market is looking at the downside and vice versa. Taking what is being presented to us, as we look to move in and out of options trades is important for longevity. Now there will always be choppy days and no trend analysis is important, but understanding each potential pattern provides an opportunity to be better prepared for the market ahead. 
Check out the links below for our social media and discord pages.