#17 From Wallstreet to Cancun, A Recap of this Weeks Ice Age
Friday, February 19th Closing Price
TABLE OF CONTENTS
"Why wait to do something next week when you can do it right now?" – Frank Mercado
DISCORD RECAP (2/16 – 2/19)
We had a number of great trades last week but the winner is definitely $RIOT.
RIOT is a company that is focused on building, supporting and operating Blockchain.
With Bitcoin making new record highs, we thought it would be best to trade those companies that will help Bitcoin succeed.
We bought shares around $60 and option contracts.
Our members made over $3,000 in profits on this trade alone.
JOIN OUR DISCORD
www.tigerwolfcapital.com/discord
EDUCATIONAL LEARNING SEGMENT
Don't chase the companies that are making every headline, follow the companies that are supporting them.
Bitcoin has been a topic of conversation for the past few months.
In the past 3 month, Bitcoin has surged over 200%. Nice return on investment.
If you invested $1,000 in Bitcoin you would have $3,085 today.
However, if you invested the same $1,000 in $RIOT, a company that engages in the provision of investment services to the blockchain ecosystem as well as manufacturing in-vitro substances, you would have $10,564.
UPCOMING WEEK 2/22 – 02/26
Monday February 22 2021:
Fed Bowman Speech 3:30 PM EST
Tuesday February 23 2021:
Fed Chair Powell Testimony 10 AM EST ( Two Day event)

Consumer Confidence FEB 10 AM EST

S&P/Case-Shiller Home Price YoY DEC 9:00 AM EST – With a reported 10% national price increase, amid a housing shortage it is clear that the price increase may not be slowing down anytime soon.
Wednesday February 24 2021: 
New Home Sales MoM JAN 10:00 AM EST – The new homes sold bounced back after a pullback in December, but there continues to be a housing shortage and price volatility hampering prospective buyers.

Fed Chair Powell Testimony 10:00 AM EST

Fed Brainard Speech 10:30 AM EST

Fed Clarida Speech 1:00 PM EST
Thursday February 25 2021:  
Durable Goods Orders 8:30 AM EST

Initial Jobless Claims 8:30 AM EST

GDP Growth Rate QoQ 2nd Est 8:30 AM EST

Fed Quarles Speech 11:10 AM EST

Fed Williams Speech 3 PM EST
Friday, February 26, 2021: 
US Budget Plan FY 2022

Personal Spending MoM JAN 8:30 AM EST
EARNINGS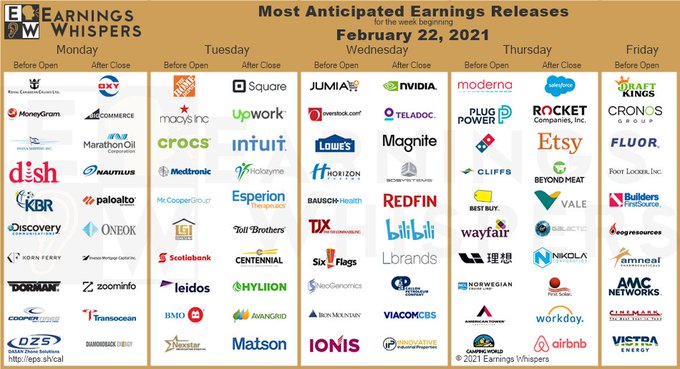 Monday, February 22, 2021
Before Market Open
$RCL – Royal Caribbean has been forced to dock all their ships, and they have to remain running while docked. Royal Caribbean has been burning cash throughout the pandemic, and their business model requires them to have full ships to overcome the cruise costs. Expected EPS of –$5.40 and Revenue of $52.14M, with expected quarterly revenue to decrease by -97%.
Tuesday, February 23, 2021
Before Market Open
$HD – Home Depot has had success throughout the pandemic with people staying at home and committing to DIY projects at home. Home Depot is the largest home improvement retailer, and they offer a wide array of products. Expected EPS of $2.74 and Revenue of $30.45B, with expected quarterly revenue to increase 18%.
$MCY – Macy's was at one point the world's largest retailer and since then have fallen from grace and accrued many losses with the growth of online shopping. Along with the fall of retail service due to online shopping, Covid-19 has curbed tons of retail shopping and hurt Macy's business severely. Expected EPS of $.40 and Revenue of $6.51B, with expected quarterly revenue to decrease by -22%.
After Market Close
$SQ – Square provides financial services as a point of sale system and payment taker. They can receive no-touch payment, their software for collecting payment using a phone, and several other in-house payment options. Square has had a unique 2020 with its various payment options, which has allowed them to be successful. Expected EPS of $.34 and Revenue of $3.1B, with expected quarterly revenue to increase by 136%.
$INTU – Intuit is the leader in DIY taxes and financial management services for small businesses and individual consumers. They own several flagship products: Quickbooks, TurboTax, and Mint. Individuals turn to TurboTax for an easy-to-use and cost-effective way to file taxes. Intuit is reporting its annual and quarterly earnings. Expected EPS for Q2 is $.13, and revenue is $1.57B, and quarterly revenue is expected to decrease by -7.4%, while annual revenue is expected to increase by 16.2%.
Wednesday, February 24, 2021
Before Market Open
$LOW – Lowe's, the tertiary home improvement company, operates a very similar business model to Home Depot as they are substitutes for each other. Consumers are spending more money on DIY projects and home improvement, which can be reflected in their earnings. They have an expected EPS of $1.36 and Revenues of $19.33B, with expected quarterly revenue to increase by 20%.
$JMIA – "The Amazon of Africa" Jumia provides an e-commerce service that offers a wide variety of services and products across Africa. This stock has recently had a long bullish run and has much promise from investors. Expected EPS of -$.46 and Revenue of $50M, we can expect Revenue for Jumia to increase in the future.
After Market Close
$NVDA – Nvidia is one of the leaders in the semiconductor industry and provides chips to several companies across several sectors. They offer microchips to data centers, electric vehicles, artificial intelligence, and a GPU platform. Expected EPS of $3.26 and Revenue of $4.83B, with expected quarterly revenue to increase by 55%.
$BKNG – Booking is one of the leading online hospitality services providers and has been struck throughout Covid-19. Booking derives revenue from agents accommodating trips and merchant revenue from users to services. Expected EPS of -$4.43 and Revenue of $1.17B, with expected quarterly revenue to decrease by -65%.
Thursday, February 25, 2021
Before Market Open
$PLUG – A company we have kept a strong focus on in the last two months and many of their sales. Plug is one of the leaders in the alternative energy/hydrogen fuel cell, and moving forward, demand for their products will begin to increase exponentially. They have an expected EPS of –$.09 and Revenue of $83.34M, with expected quarterly revenue to decrease by 9%.
$DPZ – Domino's Pizza is the second-largest pizza chain globally; they have made the entire process of delivery much more efficient. Domino's serves competitive-priced pizza, easy order access, and efficient service by new technology. They have an expected EPS of $3.85 and Revenue of $1.38B, with expected quarterly revenue to increase by 20%.
$BBY – Best Buy is a leading retailer of technology products and services. While people are continuing to work from home, they rely on Best Buy for new products and Geek Squad services to fix their existing tech products. They have an expected EPS of $3.64 and Revenue of $17.20B, with expected quarterly revenue to increase by 13.2%.
$MRNA – Moderna is one of the three pharmaceutical companies that could produce and manufacture a feasible Covid-19 Vaccine to be distributed throughout the world. Soon, Moderna will continue to generate extraordinary revenues after spending absurd amounts on R & D. They have an expected EPS of -$.17 and Revenue of $326.58M, with an expected quarterly revenue increase of 2,223.6%.
After Market Close
$CRM – Salesforce performs on-demand CRM applications that allow customers to manage and share all of their sales, support, and marketing. Salesforce offers a unique platform that enables companies to share, exchange, and install applications with a few simple clicks. They have an expected EPS of $.81 and Revenue of $5.68B, with an expected quarterly revenue increase of 17%.
$BYND – Beyond Meat is an ever-expanding meat alternative that is becoming highly popular with partnerships with global conglomerate companies. They offer various products that can serve any vegan or non-meat consumer taste. They have an expected EPS of –$.20 and Revenue of $104.48M, with an expected quarterly revenue increase of 6%.
$NKLA – Nikole Corporation manufactures electric vehicles and offers battery-electric and hydrogen fuel-cell electric vehicles. They have an Expected EPS of -$.33 and Revenue of $.06M.
$FSLR – First Solar designs and manufactures solar modules with a semiconductor film that can keep these products at a low cost. First, Solar wants to reduce the cost of Solar to combat and become a substitute for traditional energy sources. Expected EPS of $1.31 and Revenue of $713.59, with expected quarterly revenue to decrease -49%.
$DELL – Dell technology provides information technology solutions, and their operating segments consist of Client Solutions, Enterprise Solutions, and Dell Software group. Dell sells desktops to commercial and retail clients and data storage for clients. Expected EPS of $2.35 and Revenue of $23.99B, with expected quarterly revenue to remain the same.
Friday, February 26, 2021
Before Market Open
$DKNG – DraftKings is a direct competitor to Penn Gaming, and we have kept a strong focus on Penn. DraftKings promotes an exclusively online sports book/casino, and they have seen extended user growth over the last six months. Expected EPS of -$.55 and Revenue of $229.70M.
MARKET LAST WEEK (2/16 – 2/19)
MONDAY (2/16)
Mark Zuckerberg at a security conference said the social-media platform is in between a newspaper and a telecommunications company in terms of responsibility for the content and should be regulated as such. With all the recent news about Twitter shutting down accounts, and censorship being an undertone in the news, Zuckerberg confirms the heavy responsibility they bear with the most extensive user base. Its users drive Facebook's content, and therefore they should have the role of a telecommunications company, while on the other side, they are broadcasting user content. They lie in a difficult position where regulators on both sides are looking to increase Facebook rules and be responsible to everyone.
TUESDAY (2/17)
A massive cold front has moved across the continental United States, and there have been rolling blackouts in many of the Middle American states. The supply of crude oil has fallen, which has sent the US Crude oil prices above $60 a barrel. The cold has halted production, threatening to reduce gasoline and diesel supply throughout the country. Frigid weather is expected to remain throughout the middle of the week, and Covid-19 vaccinations have faced possible disruption. Some Covid-19 vaccines rely on extremely cold temperatures, which require electricity. Without it, the Covid-19 vaccine becomes useless, and this will cause lots of money wasted.
Beijing is exploring whether China can limit the export of rare earth materials to the US Department of Defense, crucial to manufacturing Lockheed Martin's F-35 and other sophisticated weaponry. China controls about 80% of the global supply of these rare earth materials and can severely restrict the production of defense materials. Boeing, Lockheed Martin, and Raytheon will be severely hurt by China limiting these rare Earth materials.
WEDNESDAY (2/18)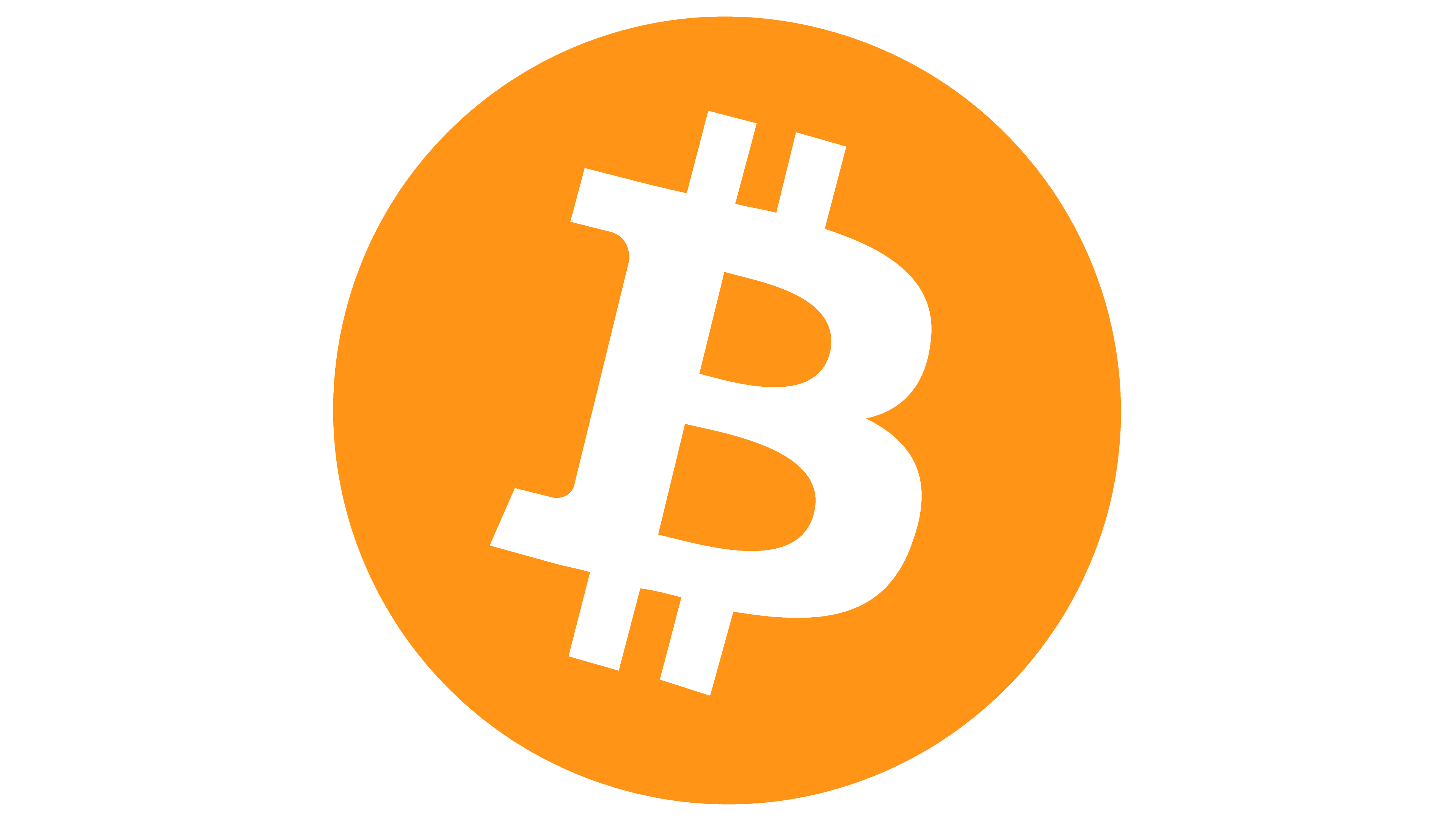 Bitcoin began a big rally Wednesday, eclipsing the $50K mark for the first time. Several companies such as Mastercard, Bank of New York, and Tesla started investing in Bitcoin. Tesla invested $1.5B in Bitcoin as an alternative cash position and began receiving Bitcoin payments for their cars. This is massive momentum for the cryptocurrency as more institutions develop trust in the alternative asset. MicroStrategy offered $900M of debt to develop a Bitcoin position, and Jack Dorsey from Square started taking Bitcoin as payment.
The Treasury yield increased by 1.3% after hitting a new high on Friday, while the 30-year gained eight basis points. With increased vaccinations and the economy beginning to restart, Janet Yellen, alongside Jerome Powell, wants to keep Nominal Yields low with such high debt levels in the marketplace.
THURSDAY (2/19)
Unemployment claims rose to 814K showing signs that the economy is beginning to worsen after continued positive trends over the last several weeks of decreasing unemployment claims. An upward claim of 55K from the week prior, Marianne Wanamaker, a labor economist from the University of Tennessee, is quoted saying, "Things are not as stalled as they were in January, but we don't have any momentum."
In light of the GameStop stock saga craziness, several key players will have a hearing on Capitol Hill. Vlad Tenev Robinhood CEO, Melvin Capital Gabe Plotkin, Reddit Steve Huffman, and Citadel's Kenneth Griffin and Keith Gill. Lawmakers will get their chance to ask the executives in a hearing focused on "short-selling, online trading platforms, gamification, and their impact on capital markets and retail investors." Several House Committee members on Financial services worked tentatively to expose any fraudulent acts that developed from the GameStop stock price boom.
FRIDAY (2/20)
This week may have felt like a month for many residents in Texas. With the large snowstorm that covered the state and left many without working utilities, the situation was dire for some. Although Texas was able to restore electricity services to most of the state Friday morning, with Federal aid, government officials are hoping to safely treat water soon as well. This would be a massive stride to restoring many Texan's safe drinking water, as damaged pipes have led to "boil water" advisories across the state.
    Another area that may be expecting a federal aid boost soon is the EV sector. New legislation proposed would grant companies such as GM and Tesla another round of federal tax credits. With new EVs being unveiled by the manufacturer from foreign competitors such as Audi, BMW, and Polestar, access to federal tax incentives could help Tesla and GM continue to lead the American EV market. While not entirely waiting to see if the new bill would pass, Tesla lowered its pricing system on its base model cars in hopes of encouraging those who may have been on the fence about their decision to buy a new Tesla or not. The EU is pushing heavily to transition to emission-free vehicles; we will have to wait and see if the US will join them in creating aggressive incentives and tax rebates to expand interest in switching from conventional ICE vehicles.
REVIEW OF LAST WEEK'S EARNINGS (2/16 – 2/19)
Tuesday (2/16)
(Before Market Open)
$PLTR – Planatir Technologies
Palantir Technologies is a data-driven company that provides the best user experience by building platforms to integrate, manage, and secure data. Palantir's business has grown significantly throughout 2020, with Stay-At-Home orders and businesses needing to have data packaged in one place.
Revenue growth of 47% in 2020, to $1.09B

Q4 Revenue increased by 40% to $322M

17% Adjusted operating margin

21 deals signed in Q4, each worth $5M

Palantir generated $610M from Government customers, which totaled 56% of revenue

77% of Revenue Growth derived from Government contracts

2019 Customer Concentration was 67% of revenue, and decreased to 61% in 2020
Takeaway:
Palantir is showing extremely healthy earnings, and this should continue with the growth of Data and demand for places to store and use this data in one place.
$CVS –  CVS Health
CVS Health had experienced an extraordinary year amid the Global Pandemic with their healthcare services, pharmaceutical services, and cosmetic business bolstering.
2020 Total Revenue increased to $268M, up 4.6% YoY

2020 EPS of $7.50 and Q4 $1.30

Full Year Cash Flow from operation of $15.9B

4.6% revenue growth for Q4 YoY

Operating income increased 16% YoY
Takeaway:
CVS has steadily increased sales throughout 2020, and every business segment has grown YoY. We will continue to watch for news with CVS on implementing the Covid-19 vaccine and the profits they derive from it.
$AN –  Autonation
Autonation is the world's largest car dealer, and their earnings will provide useful insight into consumer disposable income.
Q4 Revenue of $5.8B an increase of 5%

Gross Profit totaled $984M, an increase of 11% YoY

Operating income $309.4M increase 31% YoY

EPS of $1.73, down -1% YoY

Q4 Common Stock repurchased 4.7M for a purchase price of $302M
Takeaway:
These earnings show that consumers are spending their disposable income, and with interest rates being at an all-time low, consumers are willing to take out loans right now.
$ECL – Ecolab
Ecolab is a leader in sanitization for the hospitality and healthcare industry.
Q4 earnings show massive improvements in QoQ from Q3

Sales were down -6% YoY, $3.06B Sales for Q$

Diluted EPS from operations $1.04, -23% YoY

Operating Income $416M, -20% YoY

Cash Flow from operations of $650M and $523M FCF
Takeaway:
Ecolab shows the signs of an economy rebounding while still facing some harsh winter conditions, with restaurants beginning to re-open.
Wednesday (2/17)
(Before Market Open)
$SHOP – Shopify
Shopify is a cloud-based platform that has thrived throughout the pandemic, with consumers purchasing more goods online than ever before.
Q4 Revenue Growth of 94% YoY, Total Revenue was $977M

Full-Year 2020 Revenue Growth of 86%

Gross Merchandise Volume exceeded $41B for Q4 and $120B for 2020

Subscription Solutions revenue was $280M, up 53% YoY

Monthly Recurring Revenue was $82.6M
Takeaway:
Shopify has continued to grow massively with the unprecedented growth of online sales, and the demand for users to track their packages minute by minute has increased significantly.
$HLT – Hilton
Hilton is one of the largest hotel chains globally, and Covid-19 has stunted hotel use and caused massive losses across the board.
Diluted EPS was -$.80 for Q4 and -$2.56 for 2020

Net loss was $225M for Q4 and $720M for 2020

Revenue for 2020 $1.6B, and Q4 of $384M

Issued $1.9B in Senior Notes in Decembers
Takeaway:
These earnings show how hard Covid-19 is still hitting the hospitality industry as Hilton is losing hundreds of millions of dollars throughout 2020.
$TSEM –  Tower
Tower produces analog semiconductor chips that are growing in demand with the increased need for data storage and growth of Electric Vehicles that require these chips.
Q4 Revenue of $345M, 11% Growth QoQ, and 13% Growth YoY

Organic revenue growth of 20% QoQ and 17% YoY

Revenue for 2020 of $1.26B, Operating Profit for Q4 $33M

EBITDA for Q4 was $96M; Cash Flow was $73M
Takeaway:
Demand for the semiconductor industry is at an all-time high, and Tower Semiconductor supplies that demand. Looking forward, Tower will need to increase its production capacity to provide this supply for the market.
(After Market Close)
$TWLO – Twilio 
A cloud-based communication platform that allows developers to make and receive text messages, phone calls, and web service APIs. Twilio is experiencing growth to unprecedented levels, with companies using their platform on a more frequent basis.
Q4 revenue of $548.1m, YoY Growth 65%

Full-year revenue of $1.76B, 55% YoY

Loss from operations of $185.3M for Q4, in comparison to $93.8M in 2019

EPS of $.04 in Q4, and a net loss of -$3.35 

Loss from operations of $429M for 2020, compared to $369.8M for 2019
Takeaway:
Twilio is growing revenue, while at the same time increasing costs. We will have to continue to look into their Earnings to see if they can decrease expenses moving forward.
$BIDU- Baidu 
Baidu is a leading AI company from China that works on AI cloud solutions, produced a strong Q4 earnings report. With the growth in demand for AI involvement, from cloud work to autonomous driving, Baidu stands to continue to benefit.
Baidu reported the following
Baidu Core non-marketing revenue grew 52% year over year in Q4

Baidu AI cloud differentiating with AI solutions grew 67%year over year in Q4

Baidu's revenue reached US$16.4 billion
Takeaway:
Technology is becoming more integrated into everyday life with every passing month. With Bixby or Siri in most phones, computer chips in cars, and even smart light bulbs, for the most part, our society is pushing towards autonomy through "smart" devices for convenience. That will require increased AI involvement and production, which may provide Baidu with the avenue to continue to thrive.
Thursday (2/18)
(Before Market Open)
$WMT – Walmart
Walmart is a retail giant, with big box stores carrying items ranging from camping gear to fresh produce, aiming to be close to a one-stop-shop for all customers' needs.
While failing to reach most analysts' expectations for Q4 earnings, they still produced a solid Q4.
Walmart reported the following:
adjusted earnings came out at $1.39 per share, $1.51 expected

Raising wages at/above $15 an hour average

Online sales rose 69% in the quarter

Sales at US stores increased 8.6%
Takeaways:
Walmart always benefits during the holiday season with their large selection of products that end up shopping lists, from food to electronics. While the stimulus bill provided consumers with a small boost in purchasing power. Moving into the new quarter, growth may not expand as much as last year but can be expected to remain consistent as demand for household items is not likely to reduce.
$WM – Waste Management
One of North America's largest waste disposal companies, with arguably the most recognizable logo in their sector. Everyone benefits from their services, which explains how when most companies struggled during the pandemic they were able to continue producing similar financial reports as the previous year.
They reported the following
in the fourth quarter of 2020, revenue increased $185 million in the Company's collection and disposal business

Collection and disposal yield was 2.3% in the fourth quarter of 2020 compared to 3.2% in the fourth quarter of 2019

For the full year, total Company volumes declined 4.5% in 2020 compared to growth of 2.3% in 2019
Takeaways:
With a relatively flat 2020 vs 2019 Waste management can expect to recover some of the minor losses experienced with the majority of business reopening. Which can add volume back to their revenue streams, that may have been lost during the extended quarantine lockdowns.
$MAR – Marriott
One of largest and most recognizable hotel brands across the globe, released a weak Q4 earnings report, but as with the entire hospitality sector it was expected.
Marriott reported the following
Fourth quarter adjusted diluted EPS totaled $0.12, compared to fourth quarter 2019 adjusted diluted EPS of $1.51

Fourth quarter reported net loss totaled $164 million

Adjusted EBITDA totaled $317 million in the 2020 fourth quarter, compared to fourth quarter 2019 adjusted EBITDA of $901 million

The company added nearly 63,000 rooms globally during 2020, including more than

28,000 rooms in international markets and a total of roughly 8,100 conversion rooms
Takeaways:
Everyone expected brands such as Marriott to continue to struggle as tourism was way down. They reported large losses compared to 2019, but with the vaccine rollout underway the hospitality sector is hoping to get a boost in business again by the end of the year.
(After Market Close)
$Roku – Roku  
Now a days it seems impossible to find smart TVs that are not Roku compatible. As a company they provide streaming services for TV shows, movies and sports across all of their compatible products, which included 38% of the sold smart TV's in 2020.
Roku reported the following
 Total net revenue grew 58% YoY to $1,778 million

Platform revenue increased 71% YoY to $1,268 million

Gross profit was up 63% YoY to $808 million

Streaming hours increased by 20.9 billion hours YoY to a record 58.7 billion

In 2020, 38% of all smart TVs sold in the U.S. were Roku TV models
Takeaways:
It should come as no surprise more people were streaming entertainment more during 2019, with everyone confined to their homes during the pandemic, streams were a popular choice to pass the time. Now that more people are leaving their homes again, it will be interesting to see how they adjust and maintain part if not all of those increased streaming hours moving forward.
$AMAT – Applied materials
A leader in their sector, they produce  engineering solutions for the semiconductor, flat panel display and solar photovoltaic (PV) industries. With solar energy becoming more and more popular, their products are vital in producing efficient panels.
AMAT reported the following.
Record quarterly revenue of $5.16 billion, up 24 percent year over year

Quarterly GAAP EPS of $1.22 and record non-GAAP EPS of $1.39, up 27 percent and 42 percent year over year

Generated $1.42 billion in cash from operations

paid dividends of $201 million to shareholders

the company recorded gross margin of 45.5 percent,operating income of $1.28 billion or 24.9 percent of net sales for Q1
Takeaways:
Although they may not be the first tech company that comes to mind when compared to those in FAANG, applied materials is for all intents and purposes a tech engineering company. Providing the hardware that powers race car sensors to solar panels, they are positioned to continue to grow as demand for their products is not expected to slow down at all. Everyday items including cars, continue to become more advanced and companies will continue to require hardware that can keep up, so for 2021 we can watch to see just how high their ceiling can be.
$DBX – Dropbox
For all of us who have been students or worked in an office, chances are, you have used dropbox at one point. A leader in digital file storage and cloud solutions they produced a strong Q4 to close out their fiscal year.
Dropbox reported the following
 Total revenue was $504.1 million, an increase of 13% from the same period last year

Fourth Quarter Revenue of $504.1 Million

Net Cash Provided by Operating Activities of $170.7 Millionand Free Cash Flow of $158.4 Million

Paying users ended at 15.48 million, as compared to 14.31 million for the same period last year. Average revenue per paying user was $130.17, as compared to $125.00 for the same period last year

Cash, cash equivalents and short-term investments ended at $1.121 billion.
Takeaways:
With remote work becoming a new normal in our workforce, digital file storage and transfers become paramount in maintaining cohesion between company departments when everyone is no longer in the same building. As companies decide remote work can continue to be a viable solution, Dropbox may continue to show the same revenue growth in 2021 as it did in 2020.